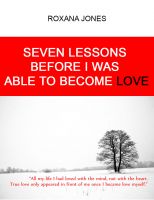 A new inspirational e-book with positive words that will open doors to new outcomes in your life.
Roxana Jones shares
once again
what she has learned and introduces some of the turning points she has experienced in the past few years, through this new collection of
inspirational books
where she describes life lessons that have been essential on her path of healing and personal transformation. Use these words of
wisdom
as tools that can help you open your heart. It is your heart that will understand these short books better than your mind. Try it and experience it.
Click on the link below to download your free copy:
Free Download
To learn more aabbout Roxana:
http://roxanajones.com/